Wrecking Ball Challenge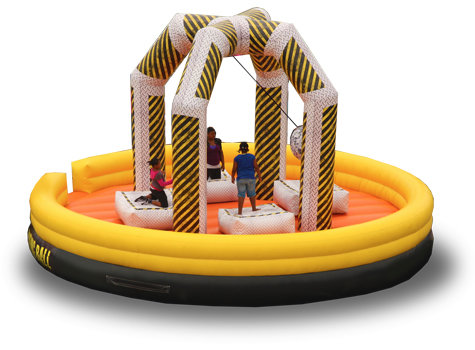 Setup Area: 34'L x 34'W x 17'H
Actual Size: 29'L x 29'W x 17'H
Outlets: 1 - 110 or 120 volt outlets required.
Age Group: 42" Minimum Height Requirement
Description
Get ready for a thrilling and action-packed experience with Wrecking Ball Challenge! This exciting inflatable game is perfect for those who love competition and friendly battles. The game is designed for up to four players who will compete against each other to be the last one standing on their pedestal.
The game is orange and caution tape themed, with caution tape accents throughout the inflatable arena. Each player will stand on a separate pedestal, and in the center of the arena is a giant inflatable wrecking ball. The objective of the game is to knock your opponents off their pedestal by throwing the wrecking ball at them, while simultaneously avoiding getting knocked off your own pedestal.
To start the game, each player will climb onto their pedestal and grab hold of the inflatable wrecking ball. Players will take turns throwing the ball at their opponents, trying to knock them off their pedestals. The last player standing on their pedestal wins the game.
Wrecking Ball Challenge is designed to be a safe and fun activity for all ages. The inflatable arena is sturdy and secure, and the wrecking ball is soft and inflatable, ensuring that no one gets hurt during the game.
Overall, Wrecking Ball Challenge is a high-energy, exciting game that will have everyone on the edge of their seats. It's the perfect activity for anyone looking to blow off some steam and have some friendly competition with friends and family.