Portable Mini-Golf (9-Holes)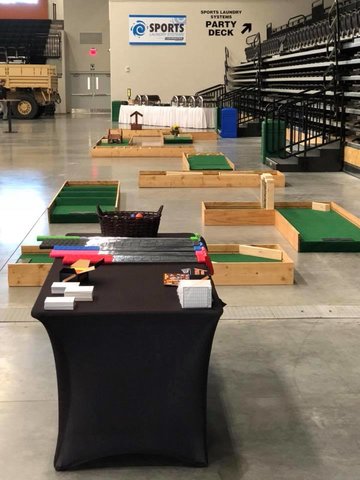 Description
Welcome to our rental mini golf service! Our mini golf package includes nine fun-filled holes for you and your guests to enjoy. We provide all the equipment you need, including clubs, balls, pencils, and score sheets, so you can focus on having a great time.
Our set-up area is designed with your enjoyment in mind. Each hole is on average 8-10 feet long and 30 inches wide, so space to set the holes up is required. Two of our holes are L-shaped, adding an extra element of excitement to your game.
We also offer a set-up table to make sure everything is organized and easy to access. This makes it simple for you to grab your equipment, keep score, and move on to the next hole.
Whether you're planning a birthday party, corporate event, or just a fun day out with friends and family, our rental mini golf service is the perfect addition to your festivities. Get ready to tee off and have a blast!