Inflatable Soccer Darts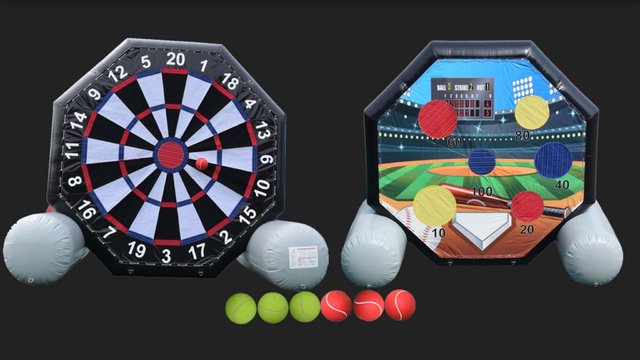 Description
Inflatable Soccer Darts is an exciting and interactive inflatable game that combines the fun of soccer with the challenge of darts. The game features a large inflatable dartboard that is designed to resemble a traditional dartboard. The dartboard is made of durable material and is easy to set up, making it perfect for parties, events, and outdoor gatherings.
The aim of the game is to kick the soccer ball at the dartboard and score points based on where the ball lands. The soccer balls used in the game are specially designed to stick to the dartboard on contact, making it easy to keep track of your score. The game is suitable for players of all skill levels and can be played individually or in teams.
Inflatable Soccer Darts is perfect for outdoor events and parties, as it provides hours of fun and entertainment for people of all ages. Whether you are a soccer fan or just looking for a new and exciting way to spend your time, this inflatable game is sure to be a hit. With its competitive gameplay, Inflatable Soccer Darts is the perfect way to challenge your friends and family to a fun and exciting game. So why not bring home the Inflatable Soccer Darts game today and start playing!