First Down! Football Toss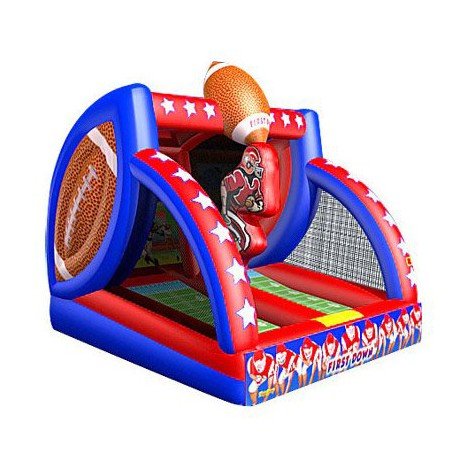 Setup Area: 19'W x 21'L x 16'8"H
Actual Size: 14'W x 16'L x 16'8"H
Outlets: 1 - 110 or 120 volt outlet required.
Age Group: All Ages
Description
First Down! Football Toss is an exciting and interactive inflatable game that will have you feeling like you're right in the middle of a football field! This game is perfect for those who love sports and enjoy friendly competition. The game is designed to be played with two players, who will face off against each other to see who can score the most points by throwing footballs through the targets.
The game features a large inflatable football field, complete with a goalpost on each end. The two players will stand on opposite sides of the field, each with their own set of targets to aim for. The targets are arranged in a variety of shapes and sizes.
To start the game, the players will take turns throwing footballs at the targets. Each target is worth a different number of points, depending on its size and difficulty. The first player to reach a predetermined score or the player with the highest score after a set amount of time wins the game.
Whether you're a seasoned pro or a casual fan, First Down! Football Toss is sure to be a hit with anyone who loves sports and competition.